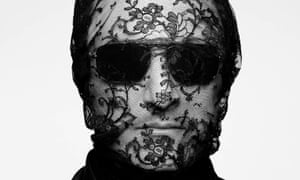 Mirwais Ahmadzaï is trying to sum up his frequent collaborator Madonna. "You know bullfighting?" he begins ominously. "It works because the bull is so powerful that you have to weaken it." Right. "Look, I'm not comparing Madonna to a bull," he quickly adds, "but she was so powerful at that time."
For most of the 90s, Ahmadzaï meandered through different genres, from acoustic chamber pop to an unreleased jungle album. In 1999, having signed his independent label, Naive Records, to Sony in the UK, Ahmadzaï was looking for a US label to release Production, a sleek electronic opus that fused stuttering beats with acoustic guitar and Auto-Tuned vocals. Impressed by the way Madonna's Maverick label had handled the Prodigy in America, Ahmadzaï asked his photographer friend Stéphane Sednaouï, who had directed Madonna's Fever video, to send lead single Disco Science to her manager Guy Oseary.
"He loved it and passed it on," says Ahmadzaï. "When she heard it she said, 'This is what I want to do', so we tried it out." Was he a fan of her work at that point? "I don't know if you know the situationist movement," he says, "but one of the things they said was break the link with the hero. I love Madonna but I wouldn't say I was a fan. I didn't have the fan attitude."I like to be provocative … I was an artist before Madonna. This is one of the secrets of our relationship
Their early sessions were complicated by a language barrier. "She always says that I couldn't speak English," he laughs, "but she speaks with an American accent and very quickly. She's very impatient – everyone knows that." After Music's playful electro came the more left-field folktronica of American Life. It got off to a bad start with the lead single and title track, which featured Madonna rapping in toe-curling style about her yoga classes, coffee-drinking habits and private jet.
"Yeah, we had a big debate about the rap," he sighs. "We did another version where it's more integrated into the mix. But I like to be provocative, which is why ultimately I didn't fight her on it." His voice softens, something it does a lot when discussing Madonna. "She just loves what she does. Even with Madame X, and working with [26-year-old Colombian singer] Maluma, people were like, 'She shouldn't do that.' She just doesn't care. If the reaction wasn't good, it was OK."
By the time Madonna executed a storming comeback in 2005 with the Confessions on a Dance Floor album, Ahmadzaï was burnt out. "I was supposed to do a big part of Confessions, but I had to leave," he says carefully. "I worked on two tracks, but we were meant to do about five or six." He's cagey about why he left. "To be honest with you, if it had been today I wouldn't have. I had some issues to resolve." Besides, he was never supposed to be an underground producer for hire: "I was an artist before Madonna. This is one of the secrets of our relationship. I'm an artist too, and she knows that."
Like all artists, Madonna included, Ahmadzaï enjoys contradiction. A self-confessed cult musician with a superstar on speed dial, he's chosen a culture-destroying global pandemic to return to music. Not only that but he's about to release a conversation-starting song and video, taken from an album featuring established names such as Richard Ashcroft and Kylie Minogue, as part of some sort of experimental protest.
"I do not care about streaming or video views," he says. "We are aiming for zero views if possible, or zero streams." Right. "I want to change the way we release records. It's just a drop in the ocean, but it's good to provoke."
• 2016 – My Generation is released as part of Record Store Day on 24 October.
Read the full interview with Mirwais at The Guardian