Last week we revealed how directors Ester Gould and Reijer Zwaan were preparing to premiere their new documentary, Strike A Pose, at the Berlin Film Festival. Featuring the dancers from Madonna's iconic Blond Ambition tour and the Truth or Dare documentary aka In Bed With Madonna, they explain what life was like for them at the time and how it changed them forever. Before the film launches we spoke to Ester and Reijer about how they persuaded the dancers to regroup and why now was the right time.
How easy was it persuading the six dancers to be part of Strike A Pose?
Ester Gould: We first sent them a letter explaining our motives and why we felt that these dancers had managed to write history. It wasn't going to be a 'tell all' tale. We were interested in what had happened to these men, not in gossiping about Madonna. I think the dancers liked us and understood the relevance of telling their own stories. Some were reluctant in the beginning, but they all agreed to meet and see who we were in the end. They have often been asked to participate in TV documentaries about Madonna, but what attracted them to this was that it would be about their own lives and experiences.
Reijer Zwaan: Some of the dancers were immediately open to the idea of talking to us about a possible documentary. Others were very reluctant to even meet with us. After 25 years they were somewhat tired of answering questions about Madonna. It helped when we explained that our film would be about them, about their own stories and about the influence that Truth or Dare has had on others. We also made it very clear that we were not looking for gossip. As soon as we met, we felt a true connection with all of them and I think the time was ready for it.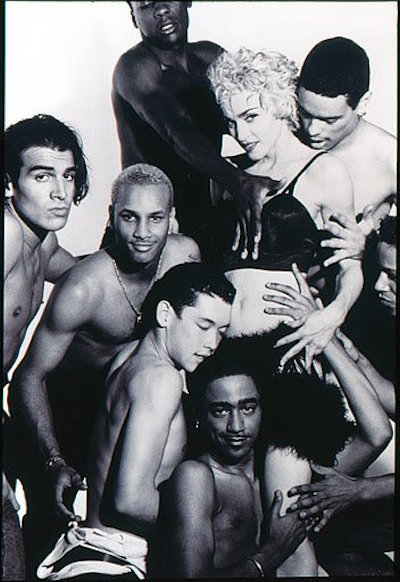 Where were you when you first saw Truth Or Dare?
Ester: I remember seeing the film in the cinema when I was 16. It made quite an impression. It was daring and liberating.
Reijer: In a cinema in Amsterdam, where I grew up. I was 11 years old and my then-stepmother took my sister and me. Beforehand, I wasn't that interested at all, but when we left I wanted to see it again right away. That whole world – bold, fun, larger-than-life – intrigued me. Even though I remember feeling slightly intimidated by some of the dancers too (they were all so mean to Oliver), their daring and outgoingness made a huge impact.
What made you want to revisit the Blond Ambition tour now?
Ester: I think I miss those times. People were more free and liberal back then than they are now. To some extent making this film is an homage to my teenage years and the eccentricity and dare that was celebrated in the early nineties. Pop culture feels more conformist and boring now.
Reijer: I love how political and outspoken it all was and that's what has made it so influential. The research was sparked out of curiosity, 'What would have happened to these seven special guys who were part of this groundbreaking tour and film?' When we started looking on the internet, it became clear that we were not the only ones asking that question. The tour and the film have touched so many people's lives. That's when we realized that there might be a bigger story to tell.

Did you reach out to Madonna?
Ester: We did reach out but haven't heard back from her personally yet. It's understandable because she's so busy with her tour but we believe she will see the film soon. We also think she will like it, because the film honours the impact she made. But who knows – we can't speak on her behalf.
Reijer: Yes, we wrote her a letter about the film and about our intentions in making it. For some reason, I think she still cares about these guys. Obviously, many people pass through her life, but I do think that that particular era of the Blond Ambition Tour and Truth or Dare must have been special for her too. I can imagine she will be touched by the stories of the dancers whom she has known so well and who were there with her.
Voguing is almost as hot as it was in the 80s. Why do you think that is?
Ester: Voguing is a form of dance and art that enhances pride and self-confidence. Why it's hot now is a question that's hard to answer, perhaps it's simply proving itself to be more than a fashionable phase because there's something very truthful and authentic about it.
Reijer: The arrogance of it, the fierceness, is very attractive and fun. It's such an expressive form of dance, so stylish too. Somehow it's about feeling free and on top of the world, or as Jose put it, 'Everyone deserves feeling like they are having their picture taken at one time or another.'
Visit LoverboyMagazine.com to read the full interview