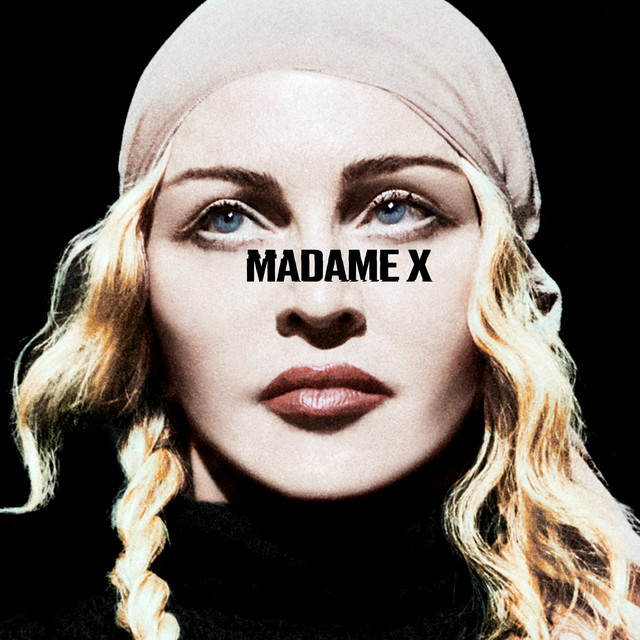 There's no doubting Madonna's cultural significance over her 30 year career but in the most recent decade, the collective opinion was that she was chasing trends rather than blazing a trail as she had on her ascent to become one of music's most successful artists of all time.
A year after its release, Madonna's Madame X is a return to her being ahead of the curve with a record that now was clearly before it's time and perfect for the summer of 2020.
A cohesive piece of art that is held together by the notion that the power of music is unifying around the world. It is the language that inspires us all, whether you understand the words or not , the rhythms align with our soul's vibrations universally. Often times we find comfort in the tribes of our favorite musical genres, with Madame X Madonna brings those tribes together to help us listen and understand, to shift our perspective and ultimately unify.
The album begins in Medillin, Colombia on a slowly percolating romance with latin music star, Maluma. On this track, Madonna sings of how travel and exploring the world can help us begin again and refresh our soul, especially when we open ourselves to love and romance. " I forgave myself for being me" Madonna reflects on the trip. With Medillin, Madonna and Maluma let you know that you can travel through the music with them " Ven ConMigo, Let's Take a Trip" Madonna welcomes us on the journey that is Madame X until the slow burn of the song erupts into a Cha-Cha groove that is undeniable.
With her live shows and best albums, Madonna creates a cathartic journey from darkness to light. The darkness begins with "Dark Ballet" a song that clocks in just over 4 minutes but feels epic as it takes us on a musical journey as hip hop beats blend with piano before giving way to Tchaikovsky' s Nutcracker Suite. This prescient song hints of what was percolating beneath the surface of our society that has erupted this summer. The song hints of how we have covered up our rage, our disappointment, our spiritual misalignment under our "Supreme Hoodies" but that ultimately " the storm inside is beginning to howl" while reminding us that despite all of this "it's a beautiful life".
On "God Control", Madonna continues to explore the simmering rage singing through gritted teeth the song equates loosing our spiritual way because we feel powerless. "Everybody knows the damn truth, we've lost control. I think I understand why they get a gun". The song then erupts into a disco jam with Madonna imploring us "We need to wake up!" With a powerful music video that plays more like a film, Madonna contrasts the joy of a dance floor and coming together with others vs. the harsh reality of violent gun assaults on places intended for happiness such as Pulse Nightclub or a country music concert in Las Vegas. A call for gun control , Madonna explores the notion that it is the loss of God/Spirituality that is the control we have lost.
As these seemingly disconnected musical genres begin to merge , the journey continues as Madonna is joined by QUAVO of Migos for the reggae tinged FUTURE. Rather than dwell on the darkness, the journey to the light begins as Madonna encourages us to "let your light shine" and Quavo tells us to "Sparkle" in his signature Migos ad-lib style. However, Madonna tells us that not everyone is coming to the future, because they refuse to learn from the past. As light has been shined on the darkness with the social unrest this summer, it's clear that the future Madonna was alluding is arriving now.
Before the listener gets complacent that Madonna is falling into a comfort zone of a reggae tinged pop song with a mainstream hip-hop feature a refreshing sonic blast takes us to Cape Verde for a call and response call to action with the style of music called "BATUKA". In this song, Madonna agains predicts the Storm Ahead of social unrest and that's it's been a long journey to social justice but coming together , joining voices, listening and responding as is the style of Batuka that we can progress our society.
On "Killers who are Partying", Madonna explores perhaps what is most missing in leadership, Empathy. Allowing herself to be equated with those who are oppressed in society, Madonna is showing an empathy but also an understanding of her own privilege. " I know what I am and I know what I am not".
Without blinders on and a sense of empathy and purpose, Madame X continues to span musical genres on some lighter themed songs. One of the few Madonna singles to get airplay in the last decade, "Crave" features guest vocals from Swae Lee on one of her most accessible pop songs in years that is perfect for any summertime playlist. Although not included on the album, the remix of this song by Tracey Young, broke a glass ceiling as Young became the first woman to ever win a grammy for remix production at this year's ceremony. Madonna continues to explore relationships with the bilingual "Crazy" that blends English and Portuguese in what should have been a featured single. The joy of music from around the world continues with "Come Alive" a song calling for peace which features Moroccan rhythms as Madonna encourage us all to be authentic and express ourselves. To truly "Come Alive" she sings she/we must " Stand Out, No I don't want to blend in- Why Would you want me to?"
A year after its release the second most streamed track from Madame X, received very little promotion but was clearly discovered by listeners with over 30 million streams on Spotify alone. Madonna did not perform it on the Madame X tour nor did she release a video but listeners found "Faz Gostoso". Not totally inexplicable as the original version of this song by Blaya was a monster hit in Portugal, where Madonna lives and recorded most of Madame X. For this version, Madonna is joined by Anitta on another bilingual floor filler, that should satisfy long time fans who love when Madonna leads them to the dance floor.
There is one last blast of sassy Madonna fun, as Maluma returns for "Bitch, I'm Loca" a bi-lingual back and forth that highlights the undeniable chemistry between the two. Madonna returned the favor of vocals on Maluma's album with another track "Soltera" making him one of the artists Madonna has collaborated the most with over the years.
Now that we have taken the journey around the world , through musical genres and languages ,Madame X begins to bring the journey to a cohesive finish for the final three tracks of the deluxe edition. With " I don't search, I find" , Madonna merges the comfort of a track sonically reminiscent of the iconic "Vogue", this time Madonna lets us know that " there is finally enough love" because she has stopped searching elsewhere and found it within. "I found peace, I found love, I found a new view." This song earned Madonna her 50th #1 Dance Song, making her the artist with the most top songs on any individual chart by any artist in musical history.
The album ends with a song about the power of protest. An anthem ahead of its time and perfect for the summer of 2020. "I Rise" ends the album with hope that we can rise above any challenges we face personally or as a society , that with challenges there is opportunity and ultimately belief that together we can and will rise above our differences and "get it together"
Over three decades into her career, last summer Madonna was way ahead of the curve, aware of simmering tensions , the power of music and vibration to unite us through common experiences and being open to listening to one another. A year early Madonna created the perfect album for the summer of 2020.
More at Elephant Journal