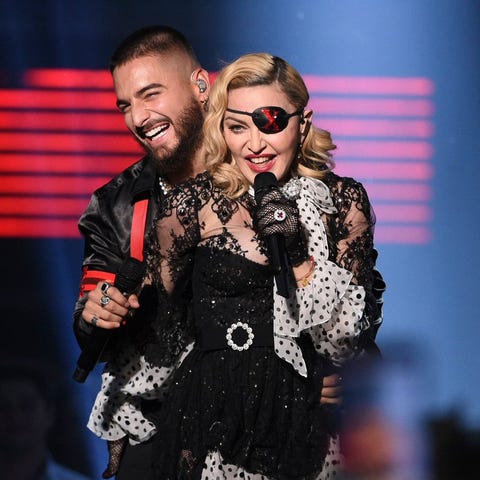 Madonna hit the stage at the 2019 Billboard Music Awards to perform "Medellín" with Maluma.
She brought four holographic versions of herself on stage for a minutes-long act that reportedly cost $5 million.
---
At the 2019 Billboard Music Awards, Madonna did what she does best: got everyone talking.
At the show, the 60-year-old singer took the stage to perform her brand-new single with Maluma, "Medellín," off her upcoming album Madame X. As usual, the icon surprised fans by doing the unexpected.
During her performance—which reportedly cost $5 million—Madonna took inspiration from Colombia­—her new single is named after the country's capital, after all—by bringing some Latin American flair to the live act. Specifically, the performance began by Madonna lying beneath a fake garden that eventually took her to various locations like a city square and, at one point, the clouds. Can we also take a trip to South America?
If that weren't enough, Latin heartthrob Maluma danced alongside Madonna for his reggaetón-infused lyrics as four—yes, four—CGI and holographic versions of Madonna tapped their feet to the choreography next to the duo, making for the ultimate 2019 optical illusion.
Ahead of her performance, Madonna heavily teased fans with what to expect by posting rehearsal footage of their dance-heavy number.
Another historic Madonna live performance for the history? We'd certainly say so.
More at Oprahmag