Madonna has a new Material Girl. The icon named 19-year-old girl singer Pia Mia as the Fashion Director of her teen-focused clothing line, and if you're not one of the 4 million people who follow the Guam native on Instagram, you're about to get a crash course on the star.
Much like Justin Bieber, Pia got her start on YouTube and quickly became known for not only her voice, but her unapologetic style which she expresses daily her social media channels.
"I am excited to announce Pia Mia as the Fashion Director of Material Girl," Madonna said in a statement. "Her creativity, confidence and unique sense of style make her a perfect addition to the brand."
The pop star, who has been singing since she was 8 years old, recently toured with Jason Derulo. Her hit single "Do It Again," a collaboration with Chris Brown and Tyga, has over 208 million views on YouTube.
When I sit down with Pia, she immediately offers me a Flamin' Hot Cheetos from a clear jar she's toting around with her. She's just back from a meeting at Material Girl's N.Y.C. headquarters where they provided all her favorite snacks. (She says she never travels without her Cheetos.) In our 10 minutes together, she tells me about her Madonna honor, sings for me, shows me her grills and reveals she's yet to get her hands on a Kylie Jenner lip kit (a surprising fact since she used to be a regular in King Kylie's Snapchat stories.) Catch the highlights below!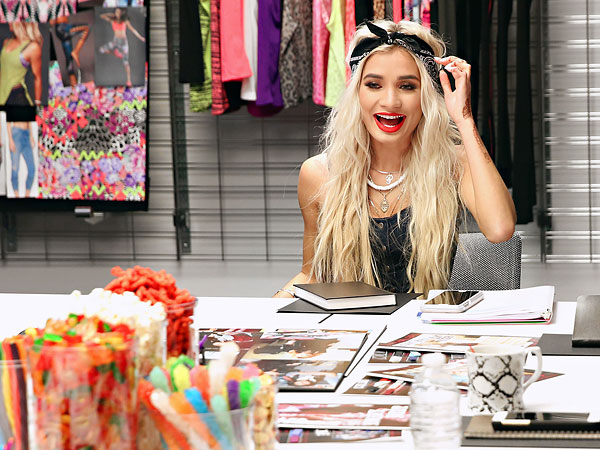 COURTESY SOLMAZ SABERI
Explain your role as Fashion Director for Material Girl.
"I'm going to be helping overall. I'm going to be helping on silhouettes, helping on designs, some of the clothes have graphics and sayings, so I'll be a part of creating that. I'm basically going to be a part of everything which is totally perfect for me, because everything that I do music and fashion wise I just always love to be 100 percent me so that's why this [collaboration] is perfect for me. I've been wearing material girl since I was 14."
Who was the first person you called when you found out Madonna crowned you Fashion Director?
"My parents are the two people that have really supported me since the beginning, so I told my dad first about it and my mom is out in L.A. with me so she was with me when I found out. I'm so honored to have been chosen by Madonna and overall the Material Girl team. It is my first time fashion directing anything and fashion is such a huge part of my life and who I am and just expressing myself. I'm really excited to just see how this goes and kind of give my influence and leave my mark."
How would you describe the modern day Material Girl?
"I would say fearless, unique, down to try anything new, trendsetter, confident …someone who fully themselves and not afraid to be that.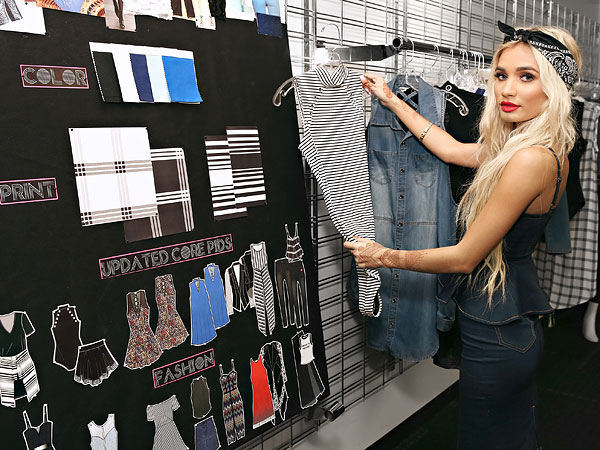 COURTESY SOLMAZ SABERI
Have you met Madonna?
"No, but I hope to. I mean everything from her stage performances to her stage production to her music to her fashion. Madonna is just amazing."
Do you have a favorite Madonna fashion moment?
"I don't know if there's one but, I love her stage performance of 'Like A Virgin.' She just slayed that and it's just so out there and different and captivating. It's amazing."
How would you describe your style in three words?
"Random, strong and unique."
What's one of your favorite trends right now?
"I love crop tops. I probably have too many to count, but I love them because you can wear them with jean shorts or jeans. You can re-wear crop tops so many different ways. I'm only like 5'4″ so I feel like crop tops elongate me a little bit."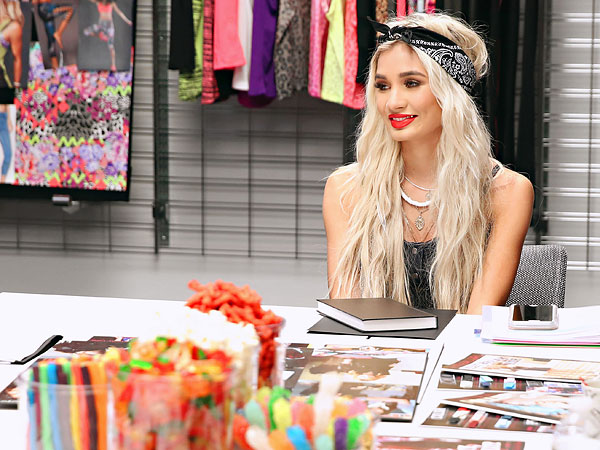 COURTESY SOLMAZ SABERI
Have you started any trends of your own?
"I'm definitely not afraid to start trends. Sometimes I wear pieces a lot just to see if I can make it trend. For a minute I was wearing the big diamond fishnets and I would wear them under jean shorts but pull them up over the top of the jeans shorts so that you can see them come up and then I would stick my t-shirt into them. And people started wearing it! It's so cool that you can kind of own something that's so just random and make people like it. If you wear it confidently people believe in it."
Read full article at People.com