As well as artworks and intimate photographs, auction items include a week in Leonardo DiCaprio's Palm Springs villa and a poker game with Edward Norton and Jonah Hill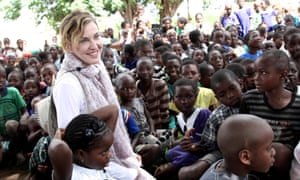 Intimate photographs of Madonna's wedding to her first husband Sean Penn are among the lots up for auction at the pop singer's star-studded benefit show in Miami on Friday night.
The three photographs taken by Herb Ritts in Malibu in 1985 will be sold, along with prints from Madonna's infamous 1992 book Sex and artwork by Tracey Emin from the superstar's private collection, to raise funds for her Raising Malawiorganisation.
Comedian James Cordon will be master of ceremonies at the event, billed as "an evening of music, art and mischief", in which Madonna will revive her bawdy cabaret show, Tears of a Clown, first performed in Australia earlier this year. The singer shared a photo of herself dressed in a pink clown suit on Instagram earlier this week to tease her performance at the Faena Forum in Miami Beach.
Other lots up for auction include a private game of poker with actors Edward Norton and Jonah Hill, a week in Leonardo DiCaprio's Palm Springs home, a private dinner performance by the magician David Blaine, and artworks by Ai Weiwei, Richard Prince, Cindy Sherman, Julian Schnabel, Marilyn Minter and Damien Hirst.
But the chance to mingle with celebrity guests, including Sean Penn, comedian Chris Rock and singer Ariana Grande, comes at a high price, with tickets starting at $5,000 for seating at the event and rising to $150,000 for a "philanthropist package" that includes a premium table for 10, access for four people to a VIP cocktail reception and a photograph with Madonna.
Lapo Elkann, the 39-year-old grandson of Giovanni Agnelli, the late billionaire industrial magnate who was chief executive and controlling owner of Fiat, has donated a customised Fiat 500 described in the auction catalogue as "a car inspired by Madonna that invokes the Miami of over-the-top style, baroque prints, glitz and glamor".
Elkann, has recently been charged with falsifying his own kidnapping as part of an alleged ploy for ransom money, according to police in New York City.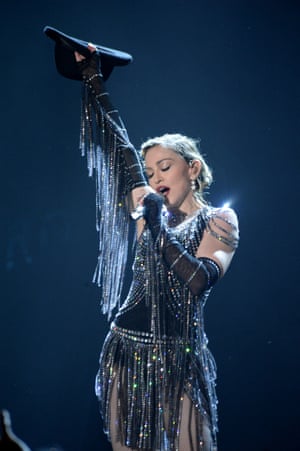 The event comes amid Art Basel Miami Beach, the biggest art fair in North America, which attracts super-rich art collectors and celebrities from across the world. Guests will also have the opportunity to bid on a trip to Malawi with Madonna, a portrait session with photography duo Mert Alas and Marcus Piggott, and the star's Swarovski crystal encrusted flapper dress, as worn on her Rebel Heart tour.
The singer's first Tears of a Clown concert, in Melbourne, saw her enter the stage riding a tiny tricycle and singing a cover of Stephen Sondheim's Send in the Clowns. Over the two-hour show, she recalled visiting her mother's grave, tearfully discussed losing custody of her 16-year-old son, Rocco, to her second ex-husband Guy Ritchie, and visiting her then-husband Penn in jail.
The auction of Madonna and Penn's wedding private photos marks another sign of rapprochement between the pair whose four-year marriage was beset by rows and his clashes with the paparazzi. At their wedding ceremony in 1985, Penn scrawled "Fuck off" in the sand at the media helicopters flying overhead.
All proceeds from the evening will benefit Raising Malawi, the non-profit organisation founded by Madonna in 2006, which is building a new paediatric surgery and intensive care unit in the country, named after the singer's adopted daughter, Mercy James, set to open next year.
"Founding Raising Malawi is one of the most meaningful things I have done in my life," said Madonna. "Raising Malawi's evening of art, music and mischief at Art Basel will support our latest project to establish Malawi's first paediatric surgery and intensive care unit. I'm excited to give others the opportunity to be part of this undertaking that will ultimately save lives and help the children of Malawi."
"This fundraiser is critical to supporting Raising Malawi's goal of improving access to high quality pediatric healthcare in Malawi, one of the poorest countries in the world," said Sarah Ezzy, executive director of Global Philanthropy Group, which manages Raising Malawi.
More at The Guardian