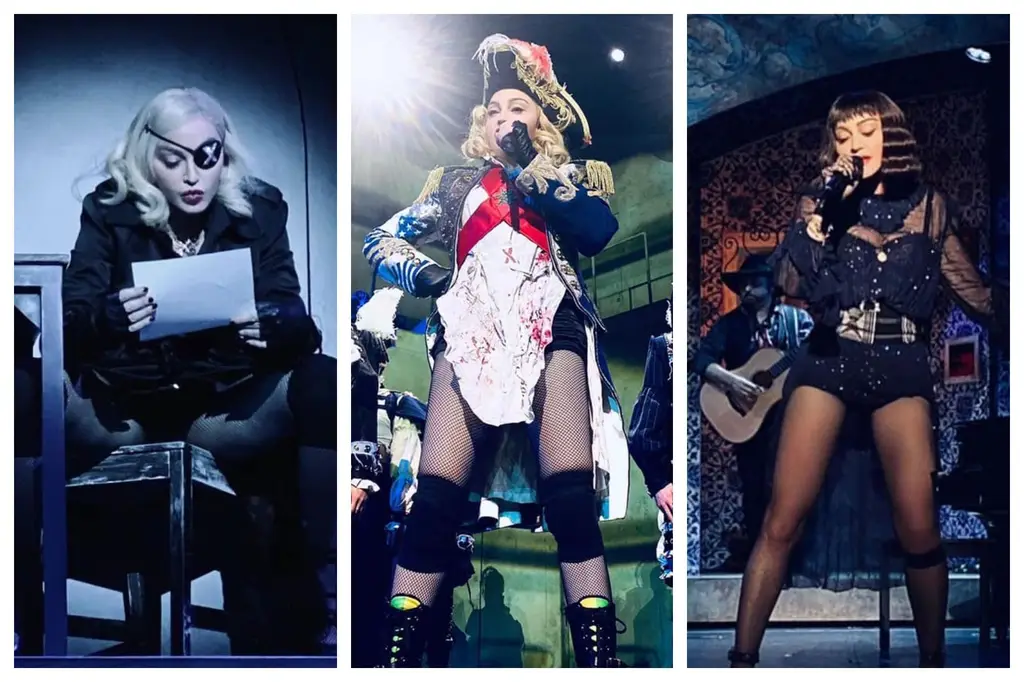 An event: Eight concerts by one of the biggest pop stars ever in the Portuguese capital is an unprecedented feat. Madonna takes this Sunday to the stage of the Coliseu dos Recreios in Lisbon, and brings with it the inspiration of the experience of recent years lived in Portugal, materialized in the album "Madame X". You'll also remember the high points of a 40-year career in a four-act show that fans can't document on their mobile phones.
Madonna arrives in Europe via Portugal after an intense journey through several major US cities: the world tour began last September 17 in New York City, which the artist adopted as a home in the late 1970s, then moved on. Chicago, San Francisco, Las Vegas, Los Angeles, Philadelphia and Miami. The Coliseum of the Portuguese capital is ready: the American singer will perform there on January 12, 14, 16, 18, 19, 21, 22 and 23, accompanied by Portuguese musicians, such as the Lisbon Batukadeiras Orchestra and the guitarist. Gaspar Varela.
It was in Lisbon that the artist drew inspiration for her 14th original album. Driven by friend Dino D'Santiago, Madonna immersed herself in Cape Verdean fado and music, translating these influences into her pop language in songs such as 'Batuka', recorded with the collaboration of the Batukadeiras Orchestra, 'Killers Who Are Partying' or, of course, Blaya's version of 'Faz Gostoso', which sings socks with Brazilian Anitta. It is, therefore, a Madonna a little more Portuguese the one who, this time, will take the stage of the Colosseum.
THE MUSICIANS
According to one of the first reports of the Los Angeles Times tour, "the show focuses on Madonna's life in Lisbon", with one of the scenarios replicating in detail the houses where she began "listening to the dramatic Portuguese fado singers". and music from the former island colony of Cape Verde ". Madonna performs on stage surrounded by a battalion of dancers and a band with several musicians she met in Portugal.
"It was a life lesson and a production lesson, to accompany the production of this show," Diogo Varela Silva, Portuguese director, grandson of fado singer Celeste Rodrigo and father of Gaspar Varela, 16-year-old guitarist chosen by Madonna to accompany her, told Expresso. on Madame X Tour.
In addition to Varela, on the Portuguese guitar, and more than a dozen Batukadeiras, there are also Madonna, Portuguese percussionist Carlos Mil-Homem, Portuguese trumpeter Jéssica Pina and Cape Verdean Miroca Paris, former collaborator of Cesária Évora.
A SETLIST
Ato I
God Control
Human Nature
Express Yourself
Ato II
Vogue
I Don't Search I Find
Papa Don't Preach
American Life
Ato III
Batuka
Fado Pechincha
Killers Who Are Partying
Crazy
La Isla Bonita
Medellín
Extreme Occident
Ato IV
Frozen
Come Alive
Future
Crave
Like a Prayer
Encore
I Rise
'PROHIBITED' VIDEOS
This is, we said, a more Portuguese but also more exclusive Madonna. Madonna forbids image capturing at concerts, requiring the public to lock cell phones and other electronic equipment in bags that will not open until the end of the show. A largely successful measure of secrecy, as there have been few recordings of shows popping up on social networks. There are, however, exceptions.
Last Thursday, Madonna posted on social media a video where she makes a "guided tour" of the Recreational Coliseum. "I'm here to inspect the room, dressed in civilian dress," she says at one point. You can already see the audience's chairs set up, as well as a big 'X' on red background on the stage, allusive to their latest album, "Madame X".
THE TICKETS
Concerts will start at 9:30 pm, opening doors an hour earlier. With prices between 75 and 400 euros, there are still tickets available for almost every show (at the time we wrote this news, only the 18th and 21st shows are sold out.
Prices:
Orchestra Chairs: 400 €
1st Audience: 300 €
2nd Audience: 200 €
Central Counter: 125 €
Side Counter: 90 €
First Front Staterooms *: 200 €
First Side Cabins *: 125 €
2nd Front Staterooms *: 200 €
2nd Side Cabins *: 90 €
Ribbon: 125 €
Gallery: 75 €
This will be Madonna's sixth coming to Portugal after her debut (in double dose) at the then-called Atlantic Pavilion (in Lisbon) in 2004, a performance at the MTV Europe Music Awards (also in the capital) in 2005, a concert of in the Parque da Bela Vista (again in Lisbon) in 2008, and a visit to Coimbra for the first and only stadium concert between us in 2012.
Auto translated from Blitz