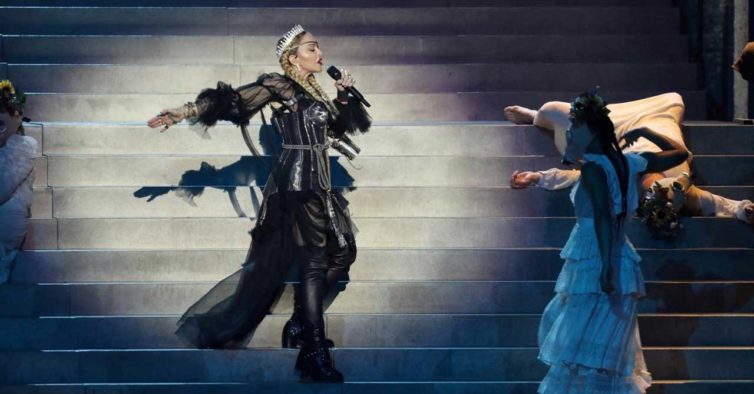 I have to begin by saying that I am not a fan of Madonna, in the literal sense of the word, although this is irrelevant when we speak of an artist who is on a level reserved for only a very few. That's why I didn't attend this Tuesday, January 14, at the Coliseum with eye flaps or metal-plated bras – even though they were all in the washing machine – but I was thrilled to see, for the first time live, the pop queen
Above all I wanted to understand to what extent Lisbon influenced the tour featuring "Madame X", the singer's last album. I already knew that there would be references to traditional fado houses, but what other particularities of the Portuguese universe could be part of the show? Would we have a moment dedicated to the typical pickpockets of Tram 28? Or a choreography that symbolizes the difficulties in the north connections to the 25 de Abril Bridge with line by the North-South Axis from the Águas Livres Aqueduct area, and by the A5 in the access from Pimenteira?
My thoughts were happily interrupted by the security guard who searched me at the entrance of the room, with a metal detector, and asked me to put my mobile phone in silence, in a bag that would be sealed and could only be opened in a proper place for this purpose, In case of emergency. That said sounds pretty dramatic, but the truth is that for two and a half hours we were all cut off from the world and strangely no one died. Several posters at the door announced to the most distracted that this was an event without mobile phones, "phone free show" appeared in large letters. I admit there was one or two influences with panic attacks after half an hour of not being able to consult your feed, but normal people held up well. Already in the living room, despite the heat and the seating crowd, the atmosphere was lively. A projected X took up the entire red stage cloth, in which four musicians played unplugged and set the tone for an inevitably more intimate show. Gaspar Varela on Portuguese guitar, trumpeter Jéssica Pina, guitarist Miroca Paris and percussionist Carlos Mil-homem welcomed an audience full of foreigners who accompanied them in chorus every time they listened to an interpretation of an artist's theme , such as "Who's that girl".
Artists are here to disturb the peace
The quartet left the stage, and although no one had cell phones, it felt like a vibration. At ten o'clock those nervous little palms began in repetitive cadence, as if to ask them to 'get on with it'. There is a big expectation for the show to begin, which "started on Sunday at 9:50 am," they say beside me impatiently. Finally, the Colosseum breaks into applause as Madonna's voice comes off, thanking everyone for their presence and asking "let nothing stand between us," a way of saying: prison of Linhó, please do not use them. That is, keep them in the body hole where they hid them. " Madonna ends her announcement with one last warning: "remember: none of this is real."
The show begins with a choreographed moment and a projection that occupies the entire stage, two aspects that will be a constant throughout the performance and that together with a removable and changing scenario set the tone for a more familiar tour, which contrasts with the usual apparatus of the great arenas or stadiums. "Artists are here to disturb the peace," a phrase by writer James Baldwin that is projected on screen to the sound of gunshots and will be retrieved several times by Madame X throughout the show.
As an art piece, this format is much more attractive while giving fans the opportunity to be closer to the artist. And when I say closer, I mean literally being shoulder to shoulder with Madonna, as happened to a German fan where the singer sat down to talk for a while. The dialogue was not very fluid, given that the fan was about to collapse with nervousness, but the artist tried to put him at ease. She praised the lord's outfit – this one with a metallic bra and colored shorts – spiked the rest of his beer and returned to the stage. Although I ran out of drink and could not register the moment with a selfie, I imagine that even today this gentleman is nervous. It was one of the interactive moments of the concert, in which Madonna approaches her audience and makes her a character in Madame X's universe. This figure who assumes herself as a woman of multiple personalities is an alter ego of the artist herself who unfolds on stage and confirms again that at 61, she really is the queen of pop.
Madonna dances, plays the guitar, climbs staircases, climbs up pianos, pins in a "mouse wheel" and at the same time still sings blamelessly – with the exception of the part where she made her fado debut, but already there. I will.
An organ concert
"What do you call a man with a small penis?" She asks in another moment of conversation with the audience. Some fans answer Donald Trump and Madonna replies, "I wouldn't know, because I've never been with one… fuck!" Like all people living in a foreign country, Madonna first learned the blunders, although she confesses that she is the only one. "Bad word" that you know in Portuguese. Now we know where the artist sent the mayor of Sintra when he forbade her to film a video clip with a horse entering a palace.
Still during this mild cavaqueira with the public, happens the most unusual moment of the show. Behind a screen, Madonna uses the eye metaphor as windows to get to know the world and explains that there are other windows as well, at which point she opens her legs and announces that the Mozart excerpt we are listening to in the columns is coming out of her vagina. Although it makes some sense to be classical music, since we're in the midst of a sixty year old, it was just a weird moment. And I must assume I've seen some things I wouldn't expect to get into a vagina, let alone get out – I'm a person with some free time, ready – but a Mozart piece I confess was the first time. Does it work with bluetooth?
We do not accept card payments
At the end of the classic "Vogue" theme, one of the few hits in the lineup, Madonna takes a selfie with a polaroid camera. Being the only selfie anyone could take inside that room, but especially from Madonna herself, this is a very appealing article for fans and collectors. Madonna knows this, so as she puts the photograph between her legs to see if the revelation hurries, she jokes, "This is a hot pussy" – then announces that she is going to do a charity auction right there. "Whoever gives more takes this picture home," he says, challenging people to come to her and do business.
After some initial hesitation, we began to see a movement in the audience to make room for an interested first. "How much have you got?" The singer asks bluntly. You say you have a large credit card amount, but Madonna rejects and says you only accept cash payments. You probably thought that since you play classical music and reveal photographs, perhaps passing through the slot also made payments, but not. Then there appeared another fan who offered 300 €, which Madonna found a trifle and finally the picture was eventually bought for 1,000 € by a Spanish gentleman named Juan – and who today should be selling the picture on ebay for 2,500 € with the title "Exclusive Madonna polaroid selfie that has been in her hot mozart playing pussy". I clicked.
Silence that will "sing" the fado
In the third act of "Madame X", soldiers carry a US flag-covered casket on their shoulders, while a video with images of the world map, caravels, and sea allude to the Discoveries. It is the motto for the performance of the Cape Verdean Orchestra that enters the audience, dressed in rigor and with an energy that puts everyone dancing to their feet. The sounds, colors and rhythms of Lusofonia fill the stage of one of the greatest international artists and with it Portugal begins to draw as a source of inspiration for this show, which also counts with the participation of Dino de Santiago with whom ahead would go sing "Sodade", in honor of Cesária Évora.
Madonna is back alone on stage, just with us, and explains what it was like to live the last three years in Portugal. She assumes she's a soccer mum, and it was her son David who convinced her to come to Lisbon to practice at the best club in the world – this last description I added, but it was clear from the way she told her. Benfica word that Madonna agrees with me. That is, as we all know, it's Benfica's fault! The singer described that she enjoyed riding a horse in Comporta, drinking her cold white Amarguinha and Porto, but lacked a sense of community, group, friends with whom she could share the experience. It was a Colombian friend who took her one day out and made her aware of Lisbon's fado houses, where the pop queen met Celeste Rodrigues, the sister of the fado queen. The rest is history we already know, Madonna fell in love with Lisbon, fado, mornas and funaná. He mourned the death of Celeste Rodrigues, who he said was an "extraordinary person" and took the opportunity to stage the grandson of fado singer Gaspar Varela, a musician who plays Portuguese guitar and accompanies the singer on this tour.
Madonna explains that Celeste taught her a fado and, to the surprise of fans, announces that she will risk singing it. "Want it?" She asks an enthusiastic audience. "Do you really want to?" The audience shouts yes and Madonna debuts in Lisbon as a fado singer, with a block of "Fado Pechincha", a classic immortalized by Celeste Rodrigues. In the end, the audience applauded, but deep down we all thought the same: Celeste Rodrigues' death was a great loss, yes sir, but on the other hand we always spared you from having to hear that. Let's say Madonna has the same way of singing fado, and me, of throwing darts with my eyes closed. Still, she can sing fado better than at least three members of the Pereira family.
After this fun moment, the scene turns into a very stylized fado house – almost like a living copy of painter José Malhoa's "O Fado" – which provides the space to hear some more songs from the new album, mostly with Latin sounds.
And it feels like Home
"Like a Prayer" is the theme chosen to end the concert, at least until it returns to the encore and to bid farewell to the Colosseum audience. Accompanied by the amazing singers who support her throughout the show, Madonna ends the song by highlighting the verse "and it feels like home", as if to imply that although she no longer lives here, she still feels at home in Lisbon.
It was beautiful, the Colosseum clapped standing and in the audience Fernando Medina wept with excitement that he no longer had the pop star as his citizen. Already I was glad to be able to watch a show that is really unique, but above all surprised to be able to read all the notes I wrote in the dark, in the notebook I took. Ok, it's not as impressive as playing Mozart for the syrup, but that's what we have and as Madame X would say "artists are here to disturb the peace", which is like saying, who gives the most has no obligation.
Auto translated from NiT