Madonna has uploaded a photo of her wearing a costume of Daenerys Targaryen, the Mother of Dragons from popular fantasy series "Game of Thrones". The 55-year-old singer wore the costume to celebrate Jewish holiday Purim. "Happy Purim!!!!! All Hail All Queens! ##certainty," she wrote on Saturday, March 15.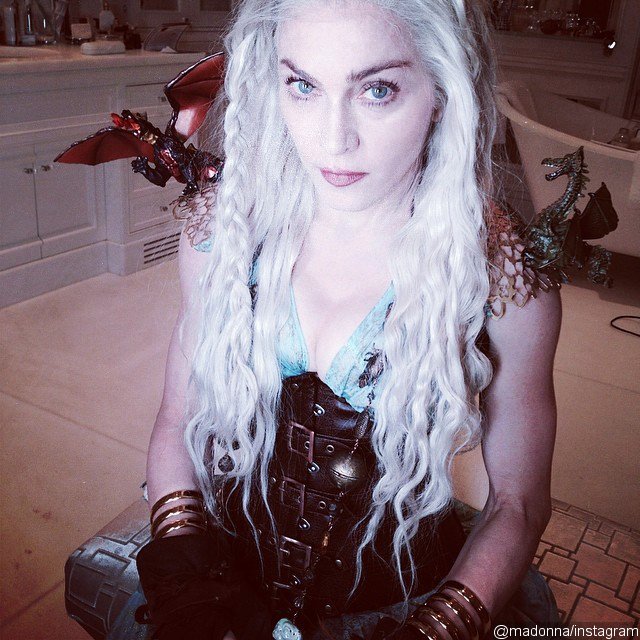 In the snap, Madonna can be seen sporting a platinum blond wig and small dragon figurines on her shoulders. She also wears some bangles to channel the character from HBO series, which is played by Emilia Clarke.
Purim is a day to commemorate Jewish community's escape from destruction during the ancient Persian Empire. Madonna was raised a Roman Catholic, but she converted into Kabbalah in the 1990s. Her Hebrew name is Esther.
The Material Girl was spotted at the Kabbalah Centre in New York on Saturday. She wore all-black outfit, a beanie and a scarf as she exited a car. The singer had no make-up on during the outing.
A few days ago, Madonna shared a photo of her seductively licking a glass shower door. The photo shows her wearing make up and a beautiful head piece. "Still cleaning house! A Woman's work is never done! I should have worn a wife beater. But i like getting dressed up! #bowdownb****es," she said of the house chore.
Read more: https://www.aceshowbiz.com/news/view/00069272.html#ixzz2wCfDrGp3