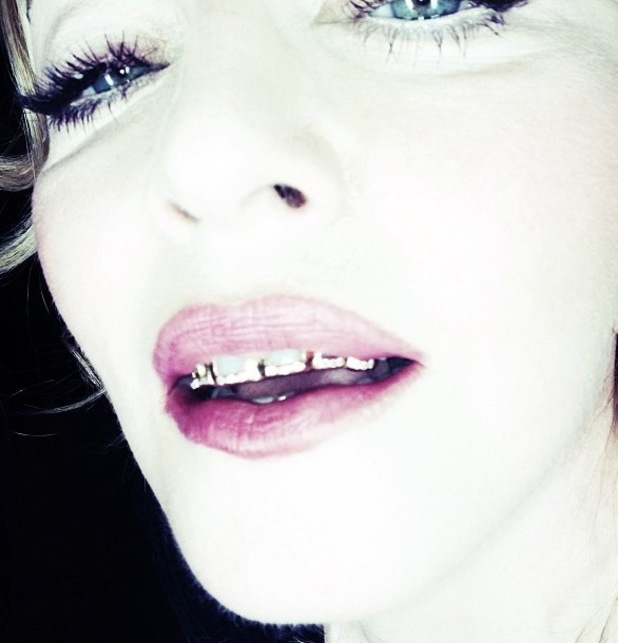 Madonna has opened up about her unusual choice of mouth-wear at the Grammys.
The 'Hung Up' megastar walked the red carpet with her son David in matching Ralph Lauren suits, and wore her now-commonplace golden grills.
Speaking to E!'s Ryan Seacrest, she said: "Yeah, I'm grillin'. It pisses everybody off when I wear my grill, so that's why I wear it. I wear it when I don't have to eat. Actually, I've learned to eat with my grill in."
8-year-old David told Seacrest: "She said she'd get me a grill for this birthday," to which the singer responded: "We haven't had the time, you'd have to go to the dentist and get moulds."
David also told Seacrest that he picked out their suits and, when asked if his adoptive mother follows his lead, he quickly replied: "Yeah, very well."
Madonna conceded: "He wanted me to dress like him, so I obeyed him."
Madonna took to the Grammys stage with Macklemore, Ryan Lewis and Mary Lambert to perform a mash-up of 'Same Love' and 'Open Your Heart'. The performance also featured Queen Latifah performing a mass wedding ceremony for 34 couples.
Speaking before the duet, Madonna said: "I wouldn't do any old song with any old artist, but I feel like history is going to be made tonight. So I want to be part of that."
Read more: https://www.digitalspy.co.uk/music/news/a546952/madonna-at-the-grammys-i-wear-grills-because-it-pisses-people-off.html#ixzz2rdS2lGvT
Follow us: @digitalspy on Twitter | digitalspyuk on Facebook