Billboard Music Awards 2016: Madonna Performs Prince Tribute
Stevie Wonder and Madonna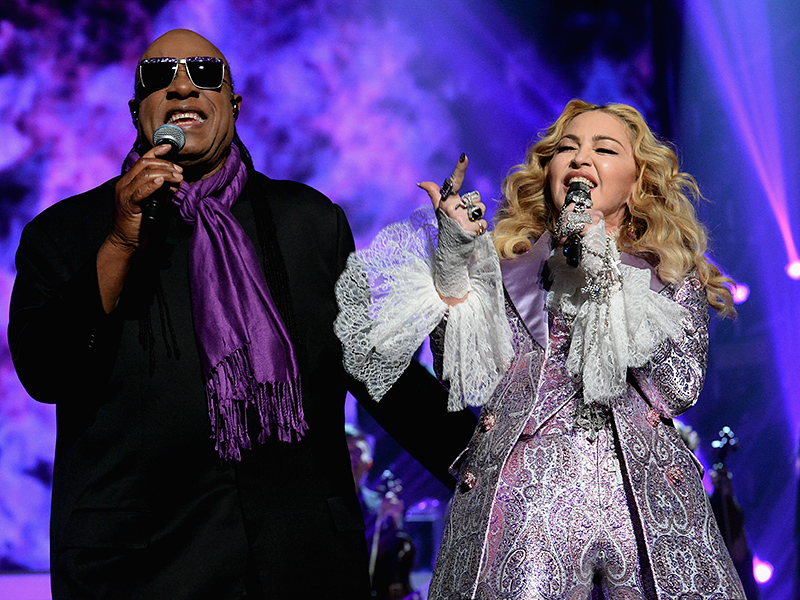 JEFF KRAVITZ/FILMMAGIC
BY LINDSAY KIMBLE AND JEFF NELSON 05/22/2016 AT 11:15 PM EDT
Nothing compares to him.
Madonna paid tribute to late legend Prince Sunday night at the Billboard Music Awards in Las Vegas.
Decked in a sparkly, paisley-print purple suit with a ruffled blouse and cane, Madonna, 57, sat on a purple throne as the monologue of Prince's hit "Let's Go Crazy" played overheard. Then, with a sparse backing band of strings and synths, she started into "Nothing Compares 2 U."
Madonna (and Stevie Wonder!) Perform Prince Tribute at Billboard Music Awards: 'Thank You for All You Have Given Us'| Billboard Music Awards, Music News, Madonna, Prince
MadonnaThe solemn tribute continued after the song ended, when Stevie Wonder joined Madge onstage to close the show with "Purple Rain."
As they honored the late legend – who unexpectedly died on April 21 – the crowd at the purple-lit T-Mobile Arena in Las Vegas stood, as stars like Rihanna and the Weeknd sang along.
"Thank you, thank you so much, ladies and gentlemen. And most of all, thank you, Prince Rogers Nelson, for all that you have given us. Thank you. Good night," Madonna said after the performance.