The star has created a new concert film Madame X, filmed in Portugal, which she revealed at a star-studded red carpet event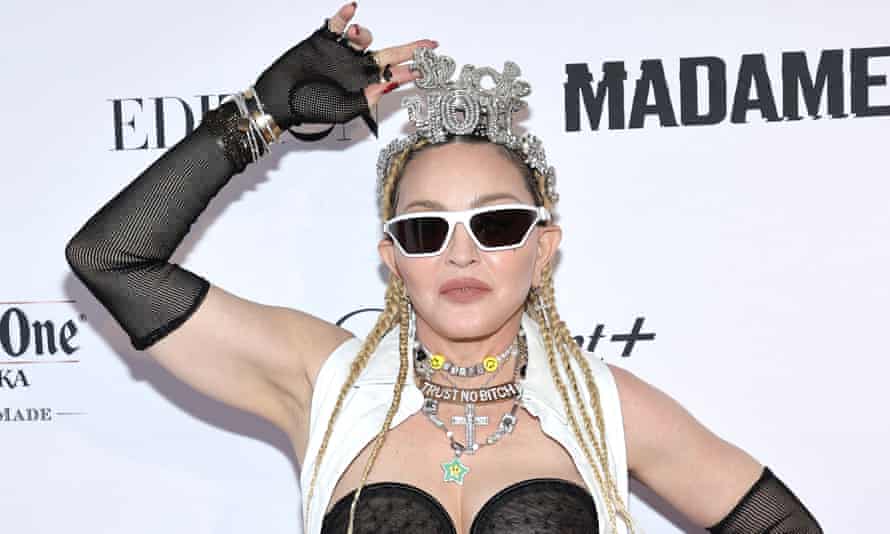 Madonna on the carpet ahead of the world premiere of Madonna's Madame X.

Photograph: Jamie McCarthy/Getty Images for Ketel One Vodka
Heavy is the head that wears the crown – and apparently fragile was the crown upon the queen of pop's head last night at the special New York City premiere of Madonna's Madame X concert film at the Paradise Club atop the Times Square Edition hotel.
Her Madgesty emerged from the pouring rain donning a slightly bent sparkling tiara above her blonde braids that boldly bore a profane phrase all-too-commonly heard on the streets of the Big Apple: "Fuck You." The diminutive 63-year-old pop star also wore what's become her signature over her four-decade career – fishnets and a bustier – in addition to white wraparound sunglasses and a gleaming plate necklace that read "Trust No Bitch."
Filmed in Lisbon, Portugal – where Madonna has lived since 2017 in support of her son David's football career – the film, released 30 years on from her defining documentary Truth or Dare, features footage from the singer's 2019–20 tour that was curtailed by the outbreak of the pandemic. The tour took its name from the singer's 14th studio album, which debuted at No 1 on the Billboard 200 chart in 2019; Madame X was the globetrotting secret-agent persona she adopted for the tour who fights for freedom and against injustices.
Full article at The Guardian