When it first aired 30 years ago, the video for Madonna's song "Like a Prayer" caused enormous controversy with its edgy mix of sexual and religious imagery.
First published in the Sydney Morning Herald on April 9, 1989
Pop-singer Madonna's hit video is to be investigated by the Australian Broadcasting Tribunal to decide whether it is blasphemous.
The tribunal has already received one complaint and the Reverend Fred Nile has promised to add his voice in a bid to have the Like a Prayer video banned. He said: "I have seen it. I feel offended by it. It is blasphemous and obviously sexually titillating." Mr Nile said it was time a line was drawn over the treatment of religious subjects. The film The Last Temptation of Christ crossed that line. Muslims had been offended by the book Satanic Verses.
"People should be careful how they treat subjects which are important to the majority of citizens in our State who have some sort of faith."
Uproar in Italy and America over the sexual and religious imagery in the video has caused Pepsi-Cola to cancel a $50 million international marketing campaign featuring its commercial run in tandem with the clip.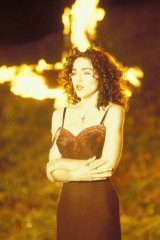 Pepsi reportedly paid Madonna $6.3 million under a one-year contract that included commercials and a concert tour. It is unclear whether Pepsi has withdrawn its support for the tour.
The video shows Madonna kissing a religious statue of a black Christ that comes to life.
And she dances among burning crosses with the stigmata on her hand resembling the wounds Jesus suffered during crucifixion.
She is saved from rape by a black man resembling the statue and appears to dream of a sexual encounter with him.
The video coincides with the release of the album and single of the song which last week hit No 1 in Australia and Britain and stands at No 5 in America.
Read full article at Sydney Morning Herald