A painting by the so-called diva of art deco, Polish artist Tamara de Lempicka, once owned by American pop diva Madonna is back on the international art market, via Australia. De Lempicka's La couronne de fleurs II, a serene, intimate work of a veiled, Madonna-like figure crowned with a wreath of myrtle leaves, is being auctioned by Christie's in a timed online sale that ends next Tuesday, with a low estimate of about $500,000.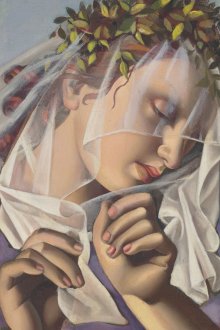 Madonna is an ardent fan of the glamorous de Lempicka, whose work and style has influenced the singer's own look and music videos, most notably 1990's Vogue, which features the artist's paintings in the opening scenes. La couronne de fleurs II was created around 1932, at the height of de Lempicka's fame, and reworked by the artist some 20 years later.
The painting was last sold in Miami in December 2016, when Madonna donated it to a charity auction to raise funds for her non-profit organisation Raising Malawi. That's where high-flying Byron Bay dealer Steven Nasteski picked it up for $US350,000. He's selling, he says, because it's now time to move on – and, no doubt, because he has his eye on the market.
De Lempicka's star is resurging: she's the subject of a musical headed for Broadway, and in February her Portrait of Marjorie Ferry, 1932, sold for £16.2 million ($29 million) at Christie's London, beating a previous record for her work set only three months earlier at a Sotheby's sale in New York.
More at afr.com