Madame X is een enorm gevarieerde plaat, die na intensieve beluistering alleen maar boeiender wordt.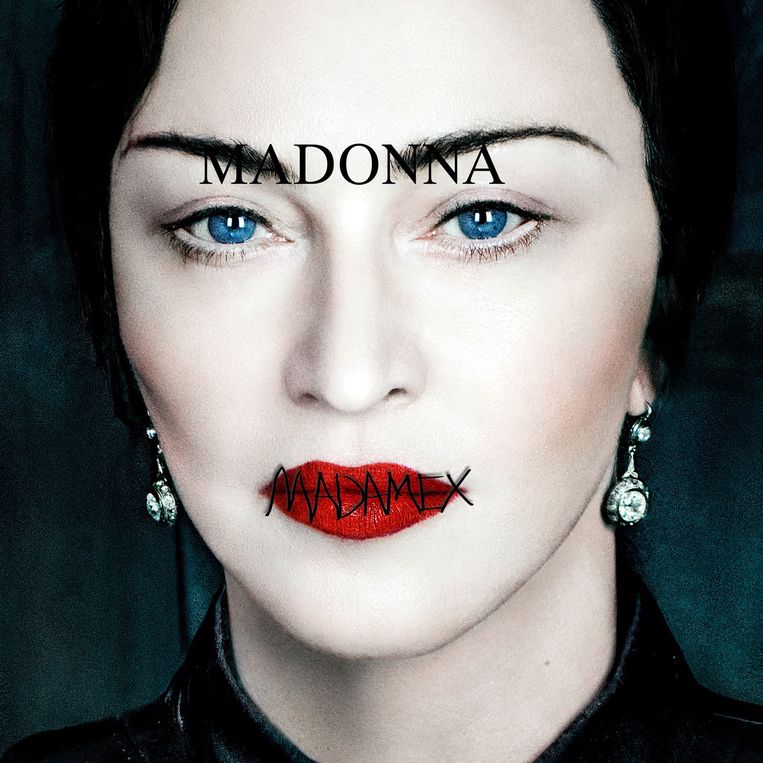 Wie gaf er eigenlijk nog wat om Madonna na haar dramatisch slechte optreden tijdens in Tel Aviv tijdens de finale van het Eurovisie Songfestival? Wat kwam ze daar trouwens doen, met de van raptrio Migos geleende Quavo, een jongen die haar zoon had kunnen zijn?
Zat de popwereld anno 2019 nog wel te wachten op deze 60-jarige diva die al jaren vergeefs zoekende was naar de juiste vorm. De popmuziek is vergeven van dominante vrouwelijke popsterren. Hoe dacht Madonna na mislukte platen als MDNA (2012) en Rebel Heart (2015) weer een plaatsje te bemachtigen tussen Beyoncé, Rihanna, Ariana Grande, en Katy Perry?
Door met een album te komen, Madame X, waarop ze niet al te krampachtig probeert vast te houden aan het dance-popmetier waar ze maar niet los van leek te komen.
In augustus wordt ze 61, dan hoef je niet meer te doen alsof je ieder weekend op de dansvloer staat. En dat doet ze dan ook niet op Madame X. Tuurlijk weet ze wat er speelt. Zo heeft ze goed geluisterd naar Zuid-Amerikaanse reggaeton (in twee liedjes krijgt ze hulp van de Colombiaanse popster Maluma), en weet ze van Beyoncé dat een beetje leentjebuur spelen bij hiphop een popsong kan verrijken.
Maar ze durft eindelijk ook met een paar liedjes te komen die zo krankjorum in elkaar steken dat je na drie keer nog niet weet waar je precies naar luistert. Dark Ballet begint als een 'gewoon' midtempo Madonna-liedje om over te gaan in elektronisch vormgegeven fragment uit Tsjaikovski's Notenkraker. Nog idioter is God Control, dat we gerust haar eigen Bohemian Rhapsody mogen noemen. Drie nummers verwerkt tot een volledig over de top gearrangeerd orkestraal werkje met een discobeat en een stukje oldskool rap dat Madonna heeft geleend van de hit Wordy Rappinghood van de Tom Tom Club (1981).
En het werkt ook nog. Wat helpt is dat ze goeddeels vasthoudt aan één producer, Mirwais, met wie ze in 2000 al samenwerkte op het album Music.
Geen parade aan hippe jongens en meisjes dus die Madonna weer wat hit-credibility moeten geven. Wel een enorm gevarieerd klinkende plaat die na een weekend intensieve beluistering alleen maar boeiender wordt.
Goed, de teksten zijn soms tergend onnozel zoals in het muzikaal best spannende Killers Who Are Partying: 'I will be gay, if the gay are burned/ I'll be Africa, if Africa is shut down/ I will be poor, if the poor are humiliated/ I'll be a child, if the children are exploited.'
Niet zo sterk is ook dat Madonna zich als Madame X in allerlei personages verstopt. Professor, chachadansleraar, student, hoer en heilige: Madame X is het allemaal, reizend rond de wereld 'licht brengend naar plaatsen waar het donker is.'
Maar ze stopt echt meer wereldse muziek in haar liedjes dan op haar andere albums. Crave met Rae Sremmurds Swae Lee is een sterke ballad en het allermooist is I Don't Search, I Find. Mooi, die dreigende techno-strings die van Massive Attack hadden kunnen zijn. Langzaam ontvouwt zich een stevige dancetrack. Zo overtuigend als op dit veertiende studio-album heeft Madonna deze eeuw nog niet geklonken.
Madonna, Madame X. Maverick/Universal.