Het heerlijk avondje was gekomen voor fans van Madonna, want de Queen Of Pop gaf op Pakjesavond haar eerste van twee concerten in de Ziggo Dome.
Concertorganisator Mojo Concerts waarschuwde fans voorafgaand aan het concert om er rekening mee te houden dat Madonna zich mogelijk niet strikt aan de vooraf gemelde starttijd kon houden. Die mededeling blijkt niet ongegrond, want het popicoon start inderdaad een uur te laat. Pas tegen 0.15 uur verlaat de diva het podium weer.
In de twee tussenliggende uren zorgt Madonna echter voor volop vermaak. Het is bijna drieënhalf jaar geleden dat Madonna voor het laatst in Nederland te zien was, toen ze haar debuut maakte in de destijds net geopende Ziggo Dome. Dat concert voelde aan als één lange videoclip. Weliswaar spectaculair en verbluffend, maar tot de milliseconde geregisseerd.
Bij deze wereldtournee, volgend op haar dit voorjaar verschenen album Rebel Heart, laat Madonna de teugels iets meer vieren. In verhouding tot de MDNA Tour uit 2012 is het decor minder indrukwekkend en innovatief, maar dat wordt ruimschoots goedgemaakt met uitbundige kleding en energieke choreografie. Bovendien zingt ze een stuk meer live.
Madonna in de Ziggo Dome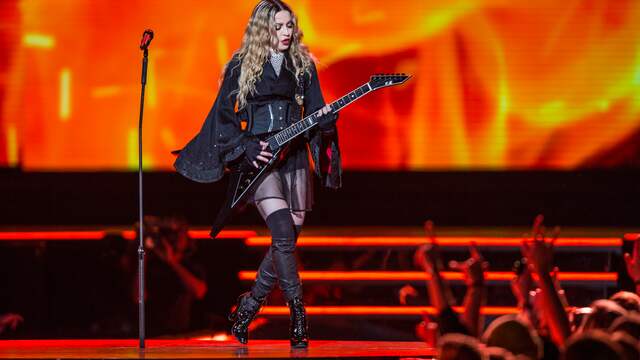 Samoeraikledij
Bij de opener Iconic wordt het publiek aangestaard door het bebloede gezicht van bokser Mike Tyson. Madonna daalt neer op het podium in een kooi, terwijl ze wordt omringd door geisha's en mannelijke dansers in samoeraikledij. Haar oude pophitje Burning Up wordt omgevormd tot rocknummer, waarbij Madonna zichzelf op elektrische gitaar begeleidt.
Madonna schopt weer als vanouds tegen heilige huisjes aan wanneer ze Holy Water en Devil Pray vertolkt. Het publiek ziet schaarsgeklede danseressen met nonnenkappen paaldansen aan grote kruizen en even later drukt Madonna het met een nepdoornenkrans gesierde hoofd van één van haar dansers in haar kruis, alvorens ze wijdbeens op een tafel eindigt.
Die eerste set is veelbelovend voor wie hoopt op meer controverse, maar de rest van de show is aanzienlijk braver. We zien Madonna en haar entourage sterk seksueel getinte moves doen in een jaren 50-setting bij het nummer Body Shop, terwijl even later heel zoet True Blue wordt gezongen. De verbluffende trapscène tijdens HeartBeatCity roept herinneringen op aan Westside Story.
In het volgende blok brengt Madonna het publiek in Latijns-Amerikaanse sferen wanneer ze als stierenvechter opkomt gedurende Living For Love. Tussen die feestelijke latinmuziek is La Isla Bonita geen vreemde eend in de bijt en net zo leuk is een medley van de jaren '80-hits Dress You Up, Into The Groove enLucky Star. De akoestische versie van Secret mag er ook zijn.
Meer dan tijdens haar vorige show maakt de popster contact met haar publiek. "Weet je hoeveel drankjes je nodig hebt om een leuke tijd te hebben?", vraagt Madonna aan haar fans. "Niet één als je bij mij bent!" Gedurende een ander nummer bijt ze een fan in zijn vingers en gooit een boeket in het publiek nadat ze vraagt of er iemand in de menigte is die met haar wil trouwen.
De finale is geheel in stijl van de jaren '20 en '30. Met bewerkte versies van hits als Music en Material Girl neemt Madonna de menigte terug naar de 'Jazz Age', inclusief topless Josephine Baker-lookalike. De kers op de taart is haar doorbraakhit Holiday. Madonna weet met iets minder middelen dan de voorgaande keer een enorm vermakelijke show neer te zetten.
Read more