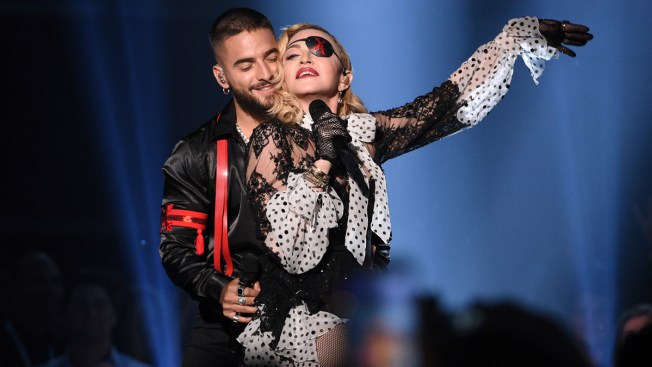 What happens when the Queen of Pop joins forces with Latin music's biggest star? You get a jaw-dropping performance worthy of its own special.
Madonna and Maluma showed up and showed out at the 2019 Billboard Music Awards. The two graced the stage and performed their new single, "Medelln," which is straight off the 60-year-old icon's forthcoming album, Madame X.
Similar to their over-the-top music video the two superstars pulled out all the stops for the star-studded ceremony with ornate ensembles, wildly audacious sets and more.
Viewers and audience members alike were in awe when several holograms of Madonna appeared onstage to perform with the duo.
Madonna performed at the Billboard Music Awards for the first time in over four years. The 25-year-old Colombian reggaeton singer held his own at his first-ever performance at the Billboard Music Award. Maluma discussed the opportunity to collab with Madonna while speaking with E!'s Jason Kennedy on the red carpet.
"It was crazy, I went to the VMAs," he recalled of meeting Madonna. "I met her over there, then I was touring in Europe and in London she called me and she said she had a song for me called "Medelln.' I'm from Medelln, Columbia and it's crazy that she said that she wanted me to be part of the project."
Earlier this month, while chatting on Apple Music's Beats 1, Madonna said the Pretty Boy, Dirty Boy was "great to work with." From their memorable performance tonight and their off-the-charts chemistry, it's easy to see what the pop icon means.
"He's one of the most easy going, open, warm, generous… doesn't leave the studio until the work is done. Has great work ethic," she said of the "Mala Mia" singer. "I adore him. Nothing but great things to say about him."
For more updates on winners, performances and/or OMG moments, E! has you covered.
More at NBC Philadelphia
Read more