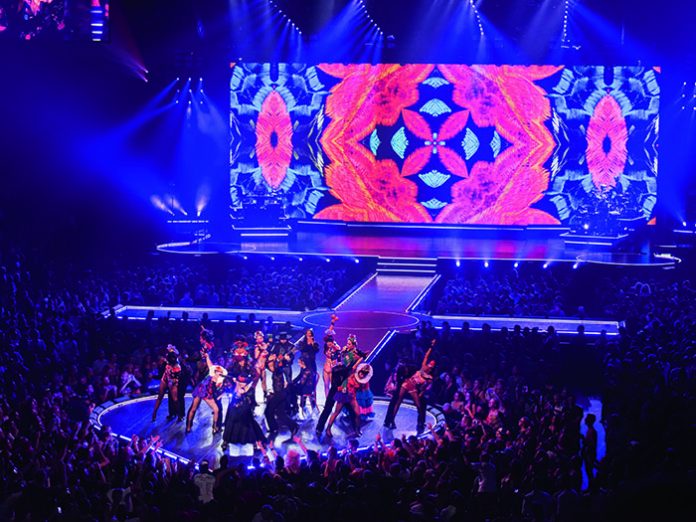 After a successful first leg in North America, Madonna brought her Rebel Heart tour to Europe with the goal of maintaining consistency across the board. TPi headed down to one of the pop icon's London dates to meet the crew and discover the intricacies involved in such a mammoth production.
With today's highest-charting artists locked in seemingly perpetual battle to concoct the most elaborate and breathtaking stage shows imaginable, gig-goers can be forgiven for setting the bar particularly high when it comes to production values. One artist that continues to push the envelope, driven by her famously exacting standards, is Madonna. After all, nobody becomes the 'Queen of Pop' by working in half measures.
The Rebel Heart tour saw Production Manager Jason Danter working with Madonna for the first time, taking over from road veteran Jake Berry. He explained: "We met in September 2014 when they invited me to do the tour. We kicked off in January with the Rebel Heart promo, which went to the Grammys first and then to the Brit Awards. However, it was really mid-February by the time we started working on rehearsals and sales for the tour."
In something of a break from the norm, Danter was personally interviewed by Madonna for the job: "This is the first time I've been interviewed by the artist. I've had telephone conversations and I met Beyonce once when I did some work for her, but most of my work comes via word of mouth and is agreed with management."
Conveniently, Danter was on a short break from another tour at the time. He continued: "Madonna's management invited me to New York for the interview. There were three of us in the room; myself, Sara from her management office, and Madonna. We chatted for around 45 minutes during which she asked what other stuff I'd done, who I'd worked with, my work ethic, and how I keep people motivated.
"We seemed to hit it off. We joked and laughed a little bit and I asked her a few questions. Two days later I was back on tour, so I didn't really give it much thought after that. About three weeks later I got the call saying Madonna was happy for me to do it, if I was still available – and the rest is history!"
It is clear from talking to Danter and his touring colleagues that Madonna is a perfectionist, and he was keen to point out that it didn't bother him in the slightest.
He explained: "She puts in a lot of time, more than a lot of other artists. She's toured for long enough to know how she wants things to go. She sound checks and rehearses every day just to get used to the room, we have to be ready to go by midday. To achieve that, we do 30% of the work the day before show day and the remaining 70% on the day. There have been times where we haven't been able to do that and we've had a couple of buildings where we've started at 2am and worked through until 5am – something I wouldn't recommend!"
The gruelling schedule requires 90 touring crew, as well as 45 vehicles comprising 13 buses and 32 trucks, making 135 people all together with drivers, and other local crew being brought on at each venue.